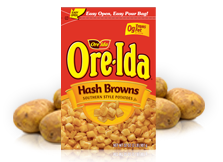 See the Krazy Coupon Lady for this Great Deal!!The deal is best with coupons from the Safeway $70.00 coupon book. Our Safeway in Newberg, Oregon didn't have any coupon books tonight, but look on the doors of the freezer and dairy sections at your Safeway!

Buy 4 Ore-Ida Potatoes $3.00
Use In-Ad Coupon $1.99 limit 4
Use 2 $3.00/2 From Save $70.00 Safeway Coupon book
or use a coupon from Bricks.com for the Steam and mash potatoes.
Final Price: as low as $1.96 or $0.49 a bag
For Links to coupons, see THE KRAZY COUPON LADY (9/26) and enjoy your $0.50 potatoes!
I picked up hash browns, steam and mash, and tater tots tonight!